Bloomberg reprint:
Greek Banks Face 'Gangs' in Bad-Loans Battle With Defaulters
BySotiris Nikas
, Christos Ziotis
, and Stefania Spezzati
Lenders said to boost sales of NPEs standing at half of total

Investors fear Greek banks will need to raise more capital
When Eurobank Ergasias SA, Greece's third-biggest lender, recently went after a "strategic defaulter," angry protesters stormed the courtroom to block its foreclosure attempt.
The defaulter, whose name the lender won't disclose, had not serviced its loans for the last five years and owed the bank 4.85 million euros ($5.7 million). Over the same period, it had collected about 6 million euros in dividends from its 41 percent holding in a food company, showing, according to the bank, that it could honor its commitments.
The case is among thousands Eurobank and other Greek lenders are contending with as they try to accelerate efforts to shrink bad loans, fearing they'll need to raise more capital if they don't. At the end of June, Greek banks were sitting on 72.8 billion euros in non-performing loans, more than a third of total loans. To reduce that number, lenders are going after the most obvious offenders: so-called strategic defaulters who choose not to pay until there's a serious threat of assets being seized or seek to squeeze out better terms from banks.
"This issue exists because when the crisis started, the government banned foreclosures," said Alex Boulougouris, the Prague-based co-head of research at Wood & Co Financial Services. "The legal framework for resolving NPLs was so complicated that it has encouraged strategic defaulters. The legal system, the bureaucracy plus the government banning foreclosures let the number of those so-called strategic defaulters increase." 
Greek bankers estimate that such defaulters account for about a quarter of all loans, something that prompted Prime Minister Alexis Tsipras to recently demand that they be dealt with. According to a study published by Springer International Publishing based on loans made out to 13,070 Greek firms for the 2008-2015 period, one out of six firms is a strategic defaulter.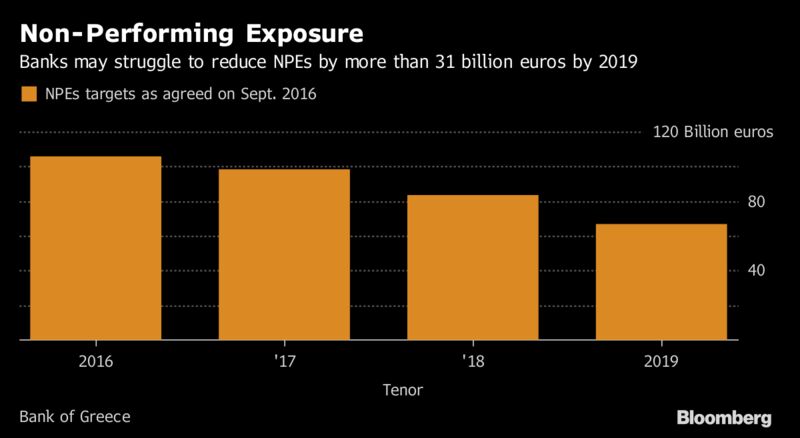 'Criminal Gangs'
While efforts have been made over the last few years to tackle the legal and bureaucratic roadblocks to address the issue, the situation remains intractable, said Dimitri Vayanos, a professor of finance at the London School of Economics.
"Even for wealthy borrowers like some corporates, when liquidation is supposed to take place, there are threats or protests," he said. "This is because there are some criminal gangs hired to protect the assets of wealthy individuals. For poor individuals, the protests are mostly by political activist groups."
Fixing the NPL issue has become critical as it continues to be a drag on the economy, preventing banks from making new loans. Without a recovery in the economy, which has shrunk by a quarter in the past seven years and left more than 21 percent of the work-age population without jobs, Greek banks face the risk of a further rise in their non-performing exposure ratio that already stands at 50.6 percent.
New Capital?
"This makes the problem systemic, which was not the case in other countries like Ireland or Italy," said Gikas Hardouvelis, a professor at the University of Piraeus and a former finance minister. "The reason why Greece has such an NPE ratio is the great depression that no other country had."
Under targets agreed to with the supervisory authorities in September 2016, Greek banks have to reduce NPEs by 15 billion euros in 2018 and a further 16.6 billion euros in 2019. The formidable task ahead has raised the specter of Greece's four systemic banks, which have loan provisions of 53 billion euros, needing more capital over the next two years.
"Greek banks are up against the clock to set the wheels in motion to achieve 2018-2019 NPE targets," said Nikos Koskoletos, head of equity research at Eurobank Equities. Missing the targets could mean they'll need more capital, which is spooking investors, especially since it comes after three recapitalizations since 2012. 
Concern about further equity write-downs is leading investors to refrain from paying high book-value multiples for Greek banks. For example, Piraeus Bank trades at 0.19 times book value, according to Bloomberg data, while National Bank trades at 0.4 times book value. In contrast, investors are paying 0.73 times book value for Italy's UniCredit SpA.
Selling More
The International Monetary Fund's demand in July for a new asset-quality review sparked concern Greek banks are treading on thin ice. Since the July 21 demand, the benchmark banking index in Athens has fallen 27 percent, paring most of the gains since the start of the year. The European Central Bank said in September it will bring forward the stress tests for Greek banks, which made the IMF back off from its AQR demand for the time being.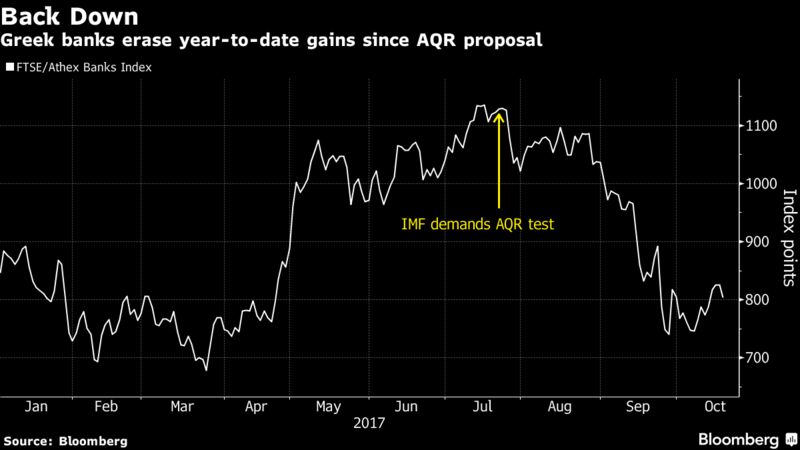 Greek lenders may raise their target for cuts in bad loans, using the sale of such portfolios, e-auctions and out-of-court settlements. The four systemic banks will have to sell about 12 billion euros in the next two years, about 5 billion euros more than targeted in the September plan, according to people familiar with the matter.
"Greek banks still face major challenges, including the need to reduce the very high stock of non-performing exposures," ECB Banking Supervision Head Daniele Nouy said on Thursday. Full implementation is needed of measures to bring down NPLs, "for instance as regards making the new platform for electronic auctions operational," she said in a letter to a Greek member of the European parliament.
Additional efforts will be needed to "strengthen the capacity of the Greek judicial system and insolvency frameworks," Nouy said.
Eurobank has announced an agreement with Intrum to sell an NPL portfolio of total unpaid principal of 1.5 billion euros. Piraeus has hired UBS Group AG to advise it on the sale, dubbed Project Amoeba, that involves debt with a face value of as much as 1.5 billion euros and the other two – National Bank and Alpha Bank – are expected to follow.
'Under Pressure'
Some bad loans will be whittled away through e-auctions, the first of which is expected in the next months. Observers like the LSE's Vayanos worry about interference from "criminal" elements in these auctions.
"Even if some collateral is sold in an e-auction, the people who buy won't be able to go and take control of it because of criminal gangs' threats," he said.
For banks, a smooth functioning of the e-auctions will be crucial.
"It is critical that e-auctions take place without impediments because this way strategic defaulters will be discouraged," Nikolaos Karamouzis, chairman of Eurobank and the Hellenic Bank Association said in a speech in London Monday.
The government is also encouraging banks and businesses to settle differences out of court.
"The framework is in place and it seems that the time has come to test it under the pressure of the back-loaded NPE reduction schedule," Koskoletos said.